About School Radio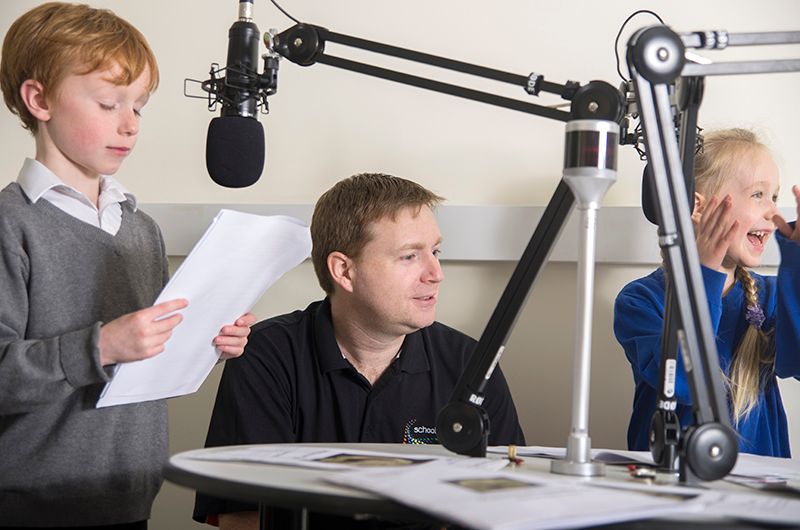 Who We Are
School Radio is part of the Broadcast Radio group, which boasts 25 years' experience of supplying the radio industry with software, hardware and technical support.
With more than 600 School Radio installations to date, School Radio are the UK's largest provider of broadcast radio technology for education with decades of experience in developing and installing professional broadcast radio software worldwide. Our range of solutions and packages offers both Primary and Secondary Schools, Academies, Colleges and FE/HE Universities a cost effective, professional way to introduce radio as a key part of everyday school life achieving a majority of the National Curriculum Standards. Radio is an excellent medium for developing speaking and listening skills and provides students with a platform to express themselves. We offer portable and fixed radio studios to suit all sizes & budgets and provide everything from streaming to training.
What We Do
We offer an affordable range of School Radio studio packages designed to give you everything you need to launch your own School Radio station. We can provide portable or fixed School Radio packages to suit all sizes and budgets. All of our packages are designed to be used by total beginners and as the majority of packages include on site installation, on site training, School Radio Player (streaming and podcasts for 1 year), lifetime support and free resources. You can be confident your radio station will get off to a great start!
We also provide fantastic additional products to suit all your additional requirements for your School Radio including: Myriad Radio Software, Studio Equipment, Sound Deadening, Web Streaming, Speaker Systems, Jingles, Training and Refresher Training, Assessments and Studio MOT's, Streaming, Mobile apps and more!
Heritage
School Radio is a member of the Broadcast Radio family making us part of one of the UK's largest broadcast radio technology providers. This gives us access to cutting edge broadcast technology that is used throughout the professional radio industry, for inclusion in our School Radio packages.
This means that we are able to offer professional radio solutions that are used in the real radio industry, at prices that make them accessible to Schools, Colleges and Universities around the world.
The Broadcast Radio Family
If you are looking for something a little different to our School Radio solutions, why not take a look at our other sites to learn more about how we can help your project.

Broadcast Radio Ltd are one of the worlds leading specialists in professional software and technology for the broadcast radio industry.

University Radio also specialise in education but with the focus on higher learning providers such as Colleges and Universities.